Description
SHI's 1st Healthy Vacation Adventure will take place in a beautiful rain forest setting located in Costa Rica. This excursion provides travelers with a special on-site experience at the Tabacon Luxury Hot Springs Resort in Nuevo Arenal, Costa Rica. The property provides a ton of activities and we will be holding lectures and group activities.
Also — we have worked diligently with the executive chef to create 3 Costa Rican-style macrobiotic meals designed by Susan Waxman and served each day for breakfast, lunch, and dinner that are both delicious and healthy that will fit into your macrobiotic practice (standard menu items available as well).

---
Accommodations
Single Occupancy
$4,500 per person for single occupancy rooms — Only $3,500 for early bird pricing before May 1st, 2019
Double Occupancy
Bringing a Guest? We have reduced prices for 2 guests who will be sharing a room!
$6,000 ($3,000 per person) for double occupancy rooms — Only $5,000 ($2,500 each) for early bird pricing before May 1st, 2019
*Pricing includes transportation to and from airport, but does NOT include airfare.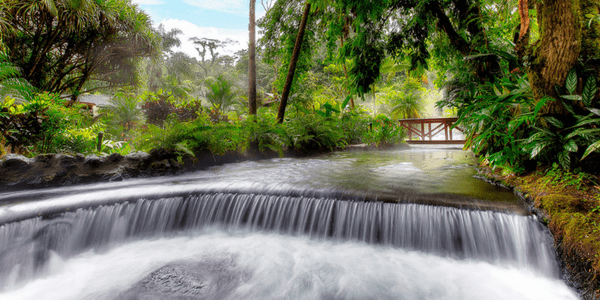 ---
Activities
– Welcome cocktails
– 3 group lectures/discussions with Denny Waxman
– 3 cooking lessons with Susan Waxman
– Daily yoga class
– A local marketplace excursion
– A tree planting event
– Optional guided tours can be booked at resort
Inclusions
– Bilingual guides
– 3 Costa Rican-style macrobiotic meals served daily for breakfast, lunch & dinner
– Access to Shangri-la and thermal water springs
– Free international calls- Free international calls
---
Schedule | November 10 – November 16, 2019
Day 1: November 10
    Arrive in Costa Rica and transfer to your resort
    Check-in to Tabacon Grand Spa and Luxury Thermal Experience
    Accommodations: Orchid Room for 6 nights
    Balance of day at leisure
    Enjoy a welcome cocktail
Day 2: November 11
    Wake up amid the thermal springs and rainforest. Enjoy your first of daily yoga classes. 
    Cooking Class #1: Hors d'Oeuvres & Snacks - Susan Waxman (Before Lunch) 
    Lecture #1: Worldwide Eating Traditions - Denny Waxman (Before Dinner)
Day 3: November 12
Day 4: November 13
    Cooking Class #2: (TBA) - Susan Waxman (Before Lunch)
    Lecture #1: How to Awaken & Grow Your Natural Healing Ability  - Denny Waxman (Before Dinner)
Day 5: November 14
   Marketplace excursion lead by guide. Find the perfect ingredients to make a meal with Susan Waxman later in the day
   Lecture #3: Practical Palmistry - Denny Waxman (Before Lunch)
   Cooking Class #3: Easy Breezy Meal - Susan Waxman (Before Dinner) 
Day 6: November 15 – Farewell Dinner
Day 7: November 16 
  Time to bid Costa Rica Pura Vida and transfer to flight home or extend your stay
SPACE IS LIMITED! BOOK NOW - Registration for the Costa Rica Healthy Vacation
LANGUAGE:
DATES: From 10 NOV To 16 NOV, 2019
DURATION: 1 Week
COST: $3,500.00 – $5,000.00
LOCATION: Nuevo Arenal, Costa Rica
CONTACT:
Please call us for more details or if you have further questions:
(215) 238-9212
Or, you can speak directly to our travel agent for the event:
Adrienne Sasson
Rubinsohn Travel – Signature Travel Network Member
267-879-8250
adrienne@rubinsohntravel.com
No prior experience needed